These days, organisations keep searching for solutions and software that can help them scale and be a tough competition to all rivals. If you are also looking for a remarkable asset for your organisation, it is advisable to integrate ERP and BI. The full form of both is enterprise Resource Planning and business intelligence, respectively. BI software can transmute raw data into valuable and helpful information for organisations, making it easier for them to make hands-on decisions faster and effectively. Your business might be juggling amidst a wide array of data points every single day. Handling data is not a very challenging task, but your organisation needs to effectively use and evaluate every piece of data that is easily possible with business intelligence technology. Getting it is possible with the ERP BI solution.
Advantages Of Adding BI to the ERP Software: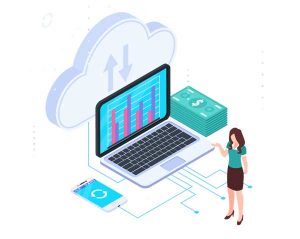 When it comes to ERP solutions, businesses can profit from the amalgamation of business data evaluation and resource planning. This combination of BI and ERP business collaboration assists with the optimisation of decision making for various organisations. Such an ERP system can put forward data in the shape of interactive tables for reports that make it easier for everyone to use, evaluate and share information. There are many new features that one can find in BI software of today's time. The recent additions are as follows:
There are a broad array of visual options available for data with BI. The solutions are varied starting from diagrams, maps, gauges, tables, etc. 
Any ERP BI solution has the potential of digging deep into the data. You can create dynamic tooltips for using data in the best way possible with the best ERP software coupled with BI. The function of the tooltips is to make information and data accurate and available. It is also possible to generate various custom reports or connect reports from present data.
It is possible for  BI software to connect to 70 Plus external or internal data sources. This can be text files, databases or online services. 
Data Dissemination and Sharing

–
With business intelligence software it is possible to schedule all the data updates thereby making dashboard and report sharing convenient with external or internal stakeholders. ERP and BI merging can do wonders for any big or small organization. 
Companies are offered ETL solutions by ERP with BI software. The full form of ETL is extracted, transform and load. Extracting data from the source, transmuting and standardizing the data as per the organization's needs and loading the data to a fresh location is what the purpose of ETL is. After the completion of the ATL process storing data in a data warehouse.
Complete Integration with Various Microsoft Products –
It is possible to integrate the ERP software with Microsoft products like Microsoft Suite or Office 365.
ERP BI software is something that is helpful for IT experts, executive analysts and a lot more.
Managing And Analysing Data With Erp BI Solution:
Organisations can easily manage, evaluate, automate and consolidate processes with ERP solutions. Every action can be then achieved in real-time for any kind of data with this kind of software. It is a robust tool for handling numerous aspects of business that incorporates:
Not only can access please quickly but visualising such data can take place within a few seconds. All such easiness of completing business processes will also boost the sales order for any company in today's time.
Essential data can be extracted, interconnected and processed with ERP BI solutions irrespective of the source. The data can originate from a JPG file, a PDF or MP3 or can be other management systems as well. As it gets converted into the desired form the data can be accessed from all devices like tablets, phones, computers etc. 
ERP BI Solution That adapts to the Requirements:
There are Complementary solutions along with ERP software and the best BI software available at Exactlly as well. Data consolidation and report creation can be accessed from anywhere. These are perfect for making decisions irrespective of the location of the time. Let us now explore some of the solutions:
Cloud-based software as a service solution is utilized for sharing and publishing vision reports that were previously created. but the options for tailoring the reports are restricted. Hence, organisations usually use desktops for generating

BI

and reports for distributing them.
Mobile app ERP BI application is applicable for any kind of device. Whether somebody is 6000 km away from the office OR is working remotely, this kind of app makes it easier to make informed decisions.  Accessing data securely, and annotating it and receiving real-time updates is possible with this app even when you are on the go. Search apps can help in saving time.
When these models are added to the data ecosystem, organisations can promote security, collaboration, flexibility and efficiency among the team in a concrete and real way. Hence, when engaging in ERP projects, considering BI can be highly advantageous for businesses. The changes can benefit several players within the organisation and they are:
Controllers and Analysts –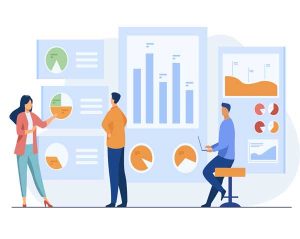 These are the people who deal with huge amounts of data on a regular basis. Many times they are unable to understand where to begin from but their job demands them to make digestible stats. not to worry as these experts can now utilise one of the modules for evaluating raw data and transforming it into useful and Gayapractical Visualisations. The tool can also help them with logical link creation between the Various data sets.
Decision-Makers and Directors

–
Decision making is one of the most important tasks that every organisation needs to undergo on a regular basis. there is nothing more precious than the time of the decision-makers. There are many times when managers and project leaders feel overwhelmed because of urgent matters and there is a wide requirement for simplifying their lives. This is possible when the organisation opts for an ERP BI solution on which managers can depend easily for accessing dashboards for various IT requirements.
Irrespective of its sources externally or internally; the  IT experts of an organisation can utilise  BI for securing the business data. Guaranteeing the compliance of every process, managing access to data and monitoring the user activities are other things that IT experts can carry out with such software.
Understanding the Link Between Business Intelligence and ERP In a Better Way:
Business intelligence is a tool that helps with data analysis for providing inside why ERP carries out the function of organising and receiving data.
BI refers to practices and technologies that employ data for minimising the probable inefficiencies. Contemporary and the best BI software Kolkata is built in a way to make this procedure more effective. This can be accomplished by offering data visualisation along with functionality that is powered by AI or artificial intelligence like using prescriptive analytics and predictive analytics.
ERP software is developed and designed for consolidating, centralizing and automating crucial departments within an organization like accounting, customer service, sales, human resources and a lot more. 
Now you might be thinking about the link between ERP and BI:
If we talk about most of the programs, BI functionality is something that is already built into the enterprise resource planning system. But the core functionality is not enough for bigger organizations that need to handle massive amounts of data on a regular basis. In some cases, the organizations might need advanced reporting attributes as well. This calls for the implementation of a specialized business intelligence tool that is designed for integrating with the ERP system. 
BI can help an organization use every piece of detail to its advantage that it receives via the ERP system. Achieving the best insight is also possible this way. 
Final Say:
By everything we have learnt about ERP and BI in this content, it shows how ERP can be smarter with BI. The probability of success is endless when these two are combined for working together. It commences with the raw data that partners, employees and customers generate regularly. When the integration of ERP systems and business intelligence takes place, such valuable insights do not need to remain separate and can easily be merged together. With the power of ERP and BI software combined, an organization can be equipped with intelligence that is data-rich and will guarantee that an organization makes faster and smarter decisions. This will also guarantee that they withhold the competitive edge that is needed these days. More information about exactllyERP and top BI software is available for Free Demo. Check it out to avail it. Contact Us to implement the best BI software in Kolkata that will make data the most valuable asset for any organization. 
FAQ:
(1) Is BI part of ERP?
Yes, BI is a part of ERP as ERP gathers the enterprise data while BI evaluates the enterprise data and employs dashboards for data presentation for making it easily understandable and assisting in recognizing actionable opportunities. 
(2) What are the benefits of ERP?
The benefits of ERP software system include its capability of offering consumers a great degree of co-ordinated automation and reporting
(3) What are the benefits of Business Intelligence in ERP?
The benefits of business intelligence in ERP include the capability of amalgamating a huge amount of data into a single place. This lets business managers make proper data-based decisions. 
(4) Which is the Disadvantage of ERP?
The system instantly becomes challenging to use when there is resistance in the sharing of internal information between various departments as it can decrease the efficiency of the ERP software. 
(5) What is Business Intelligence in ERP?
Business intelligence in ERP lets an organization evaluate and leverage a huge amount of data that the ERP software captures. BI software utilizes and evaluates data and presents it in an actionable format.
(6) What are the styles of Business Intelligence?
The styles of business intelligence are enterprise reporting, mobile alerts and apps, advanced analysis and data mining, scorecards and dashboards, OLAP and visual analysis.
(7) What are the five basic tasks of Business Intelligence?
The five basic tasks of BI are data analysis, decision support, data sourcing, risk assessment and situation awareness.
(8) What are the key components of Business Intelligence?
The key components of business intelligence are Real-time BI, online analytical processing, data warehousing, Corporate performance management and data sources.
(9) Why is Business Intelligence so important?
Business intelligence is so important because companies can always make better decisions by displaying historical and present data within the business context.
(10) What is meant by ERP in Business Intelligence?
With data collection and easier access to it, ERP systems can work together with BI systems for converting business data into valuable information and it can propel an organization forward.
(11) What is the need for Business Intelligence in ERP?
With business intelligence,  data is transmuted in actionable insights for better decision making. BI ERP systems can be any organization's ears and eyes enabling them to monitor the selected key performance indicators.
(12) Does ERP include Business Intelligence?
Yes, ERP includes Business Intelligence as it allows companies to evaluate and leverage huge data amounts. 
(13) What is the ERP life cycle? 
ERP life cycle includes stages like pre-evaluation screening, package evaluation, project planning phase, gap analysis, engineering, customization, implementation team training, testing, going live, end-user training and post-implementation. 
(14) What is Business Intelligence and its application?
Business intelligence utilizes software for converting huge data into bite-sized insights for informing decision-making. 
(15) What are the types of Business Intelligence?
The types of business intelligence are reporting, drill-down, dashboards, ETL, visualizations, OLAP, data mining, etc.