Adopting innovations is a must for organisations for enhancing their performance and responding efficiently to the various environmental demands. But every innovation implementation will not always result in profits for that organisation. This can happen as innovation is never an isolated action but it is something that depends on a network of amalgamated actions that aim for boosting the organization's competitiveness. HRMS systems like an HRIS system and HRMS software can bring innovation to an organisation. But yet it can gain the complete advantage through the finest fit between business processes and the HR management model. For instance, when it comes to cloud HR software the HR payroll module present within it helps organisations perform in a better manner. Now we will learn more about HR systems in detail.
Detailed Information on HRIS and HRMS:
It is true how a sound HR system carrying the latest technologies can change the complete face of an organisation. HR software is that technological innovation that helps organisations to keep the focus only on the people who are running it. Now let us learn about various HR Technology Solutions.
What is HRIS?
An organisation can manage policies, procedures and people in a better manner with the implementation of HRIS systems. The major characteristics that define this popular HR system are listed below: 
Benefit Administration

Workflow

Reporting

Applicant Tracking System

Self-Service

Core Human Resources Compensation Management

Absence Management

Development and Training
What is HRMS?
HRMS cloud software is the one that covers elements of Human Capital Management as well as HRIS. The realm of HRMS is massive and covers a broad array of functional requirements. HRMS vendors like Exactlly include a reformist talent management element incorporated in the offering as well. The two most important attributes of any sound HRMS software are labour and time management and payroll. However, it is important to find a vendor that also includes scheduling capabilities in their software solution.
Looking at the Primary Goals:
The terms HRIS and HRMS system might be different but they both share a similar fundamental aim. This is to permit business owners in managing employees in the best possible manner. Some of the common goals of both of these systems are listed below:
Contact information maintenance for potential hires, present employees and applicants

Automating the reviews of work progress

identifying the requirements of the workforce 

tracking the pay history that incorporates bonuses and overtime

offering progress reports for employee and career objectives

monitoring the time allotted by employees
Core Features of HRIS:
A small business will always start off with the most fundamental option that is the HRIS system. The attributes of this HR system are listed below: 
Intensifying productivity is possible with this feature
The applicant tracking system helps in storing resumes, posting prescriptions and managing interviews seamlessly.
Development and Training

–
HRIS software offers the best method for employees to keep on developing their skillset.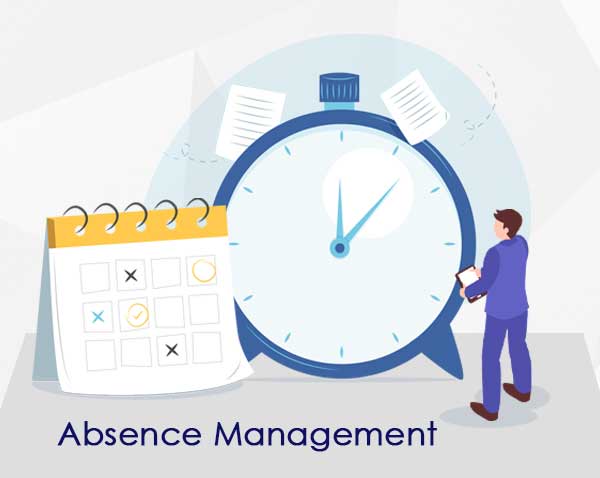 Unplanned absences by employees can happen any day because of reasons like injury and sickness. There are maternity leave requests by employees as well. So for both authorised and unauthorised leave, HR systems help the HR professionals in managing the leaves perfectly. Along with absence management, such systems help in maintaining the employee attendance system as well. Attendance management enables a company to learn whether every employee is fulfilling their duty or not. 
Benefits Administration

–
The best HRIS system enables the workforce in enrolling in health insurance and track all the information and also manage 401K. 
Compensation Management

–
HR systems like HRIS help in handling types of compensation such as paid time off. organisation funded activities, remuneration, overtime pay and bonus program
Core Features of HRMS:
Amidst various HR systems, the most involved and all-inclusive HR software that an organisation can use in today's time is the human resource management software. When it comes to HRMS integration it is a highly sought after endeavour by most companies these days as these include the features that are usually present in HCM and HRIS systems. The HRMS features list consists of the following as listed below: 
TLM or Time and Labour management –
This feature of the system helps in tracking the project times and controlling employee schedules for boosting profitability and productivity.
The employees working are the people carrying out the various business processes on a regular basis. Paying them correctly for their duties and also for overtime is the responsibility of every organisation. But for large organisations to keep track of all the data is quite challenging. But HR payroll administration is possible in a seamless manner with the HRMS system. The software solutions help in directing taxes, calculating remuneration automatically and sending direct deposits and a lot more. 
Why shift to Cloud HR System Software?
HR or human resource process automation is something that most organisations are adept at in the present times. But organisations are aiming to make their workforce management even more effective by making the shift to cloud HR software. Today's HR departments require more scalability and functionality which again makes cloud HR software highly important. The software solutions also let businesses indulge in strategic human resource planning perfectly. Organisations must replace HR processes with cloud HR software because of the reasons as listed below: 
Standardization of all HR procedures
Existence of paper based human resource templates
Ease to abide by all the major regulations and policies
Final Say:
This is the perfect time for any organization to install an HR system as its benefits are massive. No other technology can bring innovation more than this. Updating the human resource planning procedure with cloud HR software can help businesses level up. This is because when employees are given the correct amount of attention, they feel boosted from within. Such motivated individuals will always offer more productivity. Especially the HR payroll is the most vital for businesses of today's time. Investing in HRMS software is also affordable and organizations can access it through multiple devices. The effortless integration with various other solutions is what is making software like exactllyHRMS so current and prevalent. Always there is a Free Demo available for businesses to get hold of this concept more clearly. They can Contact Us for the best services. 
FAQ:
(1) What makes a good HR System?
A system that permits the workforce to log in securely, maintain and update information on the system and submit absences and holiday requests seamlessly.
(2) Why is HR Software Important?
People management tasks are time-consuming but these can be automated with HR software. Thereby employees can give their attention to more business-driving activities
(3) What HR Software should look for?
Organizations should look for HR software that consists of features like automated calculations, dynamic reports, streamlined processes, interoperability, customizable interface, employee self-service, performance management, etc.
(4) What are the Benefits of an HRIS System?
HRIS software carries the capability of supporting accurate and fast automated processing across functions like absence management, payroll compensation, performance management, talent acquisition, people analytics and a lot more.
(5) What is the use of HR Software?
The optimization and management of daily HR tasks are possible with HR software. These software solutions help in satiating all the human resource goals of a company
(6) What are HR Techniques?
HR techniques are solely aimed towards encouraging employees to be more committed in all the projects that they take over. The potential of HR is huge and this includes knowledge management, change management, healthy habits, training, action plans, evaluation, development, collaboration, etc
(7) How has HR changed due to Technology?
The current technological advancements in the reality of human resource have enabled the HR departments to store files, evaluate employees performance and contract employees in a more seamless manner.
(8) What is Performance Valuation in Human Resource Management?
Performance evaluation is the productive and formal procedure of measuring an employee's work. It also measures the results that depend on the job responsibilities. It also plays a crucial role in offering periodic feedback to the workforce so that they are self-aware in the context of performance metrics.
(9) What is HRIS in HR?
HRIS or Human Resources Information System is utilized for collecting and storing data of employees of an organization. This encompasses the fundamental functionalities required for end-to-end HRM or Human Resources Management
(10) What are HR Systems and Processes?
HRMS, HCM and HRIS bring together a number of processes and systems that guarantee the hassle-free management of business processes, data