There was a time when only large organizations would utilize ERP or enterprise resource planning software. But over the previous few years, ERP systems are experiencing massive transformations. Now, small businesses can even choose to implement ERP for small businesses as these no longer carry a complex infrastructure. Since the technology of automation is powering these systems, even more, small businesses do not require in-house technical teams to run. Today's automated ERP systems are moving far beyond the limitations of the size of the various companies. Leveraging automation is the best method of bringing value to any organization.
Multiple Benefits of Process Automation: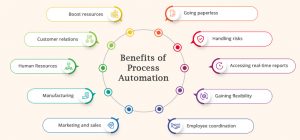 Organizations can make mundane tasks easier for employees with automated ERP systems. By helping save time, these systems enable the workforce to emphasize various other engaging works. So the benefits of ERP systems for small businesses are listed below:
Any organization with a considerable amount of sales order each day will gather a humongous amount of data. When employees try to handle paper on data, it will automatically result in stacked drawers and piled up desks. With such a havoc situation, employing the records to the fullest also will not seem like a possibility. This can lead to inaccuracy in operation management. But ERP software completely discards the practice of utilizing papers. Hence, storing business information in a structured format is then a big possibility. Data is then stored in a central database and within secured servers. Managing and monitoring every information bit becomes very simple that again makes managing business operations streamlined. So with proper employee training, the entire workforce can use ERP for organizational growth.
Along with the easy management benefits of automated ERP systems, organizations can also recognize and eliminate the risks linked to ERP software. As the nature of ERP systems is always precise and dependable, the chances of committing errors by the workforce will drastically decrease. The systems enable organizations in predicting the events from before which again helps in preventing possible risks.
Accessing Real-Time Reports of the Various Processes –
When investing in the most avant-garde ERP for small businesses, employees of a company need not go through piles of papers for getting hands-on particular information. Automatic data extraction with only a few clicks is possible with automated ERP systems. These solutions can scan via the records for generating real-time reports instantly, organizing the reports in a competent manner, examining the business procedures and a lot more. By doing this, companies can easily identify the conditions or events that are taking appropriate actions. Hence by taking up ERP projects, businesses can advance towards growth.
Gaining Flexibility in the Realm of Process Management –
Automatic information recording is an amazing attribute of today's ERP software. Due to this, employees do not feel any requirement of dealing with backbreaking manual data. ERP business collaboration means that these systems carry the expertise of retrieving and indexing information from any kind of electronic device. So when an organization's access to all business operations is not limited to electronic devices, it empowers the companies to gain more flexibility in the realm of process management.
What if every business process can be integrated under a single roof? Yes, it is possible with the installation of automated ERP systems like Exactlly that even helps in enhancing employee interaction. It will be then seamless for the workforce to interact with one another on various projects. Another vital feature of ERP software is that it offers online and straightforward communication between more than two members of a company. Due to this, employees do not need to be always physically present to discuss and get work done. Along with cutting corners, such systems acted efficiently in time of lockdown when every employee was working from home due to the pandemic.
Boost Resources Productivity –
There lay many incongruent business processes within a company. ERP systems have the capability of integrating those processes for making data not just more efficient but also error-free. This type of coherence encourages information uniformity among numerous departments that discards any replication and disjointedness. With this decision-makers can also have access to the entire data and at any point they want. This also helps in eradicating time lag and boosts productivity.
Customer Relations at its Best –
Organizations can deliver services or products faster to customers with ERP systems. Stable ERP for small businesses also means that employees will deliver more productivity. These ultramodern systems help in leaving a positive impression on the buyers. Customers will automatically feel satisfied when they purchase from an organization about which they carry high notions. The work of automated ERP systems is to help companies achieve that. On top of this, customers also find it easier as ERP systems come with chatbots and digital assistants. This also helps in building strong B2C relations.
The best ERP for small business always comes with the HR component that functions as the end-to-end workforce management platform. This platform manages tasks related to hiring, timekeeping, payroll, and onboarding and compensation management. Benefits deduction and tax are complex human resource functions and these can be automated with ERP software-linked HR software. This saves money and time and also decreases errors.
The benefits of automated ERP are possible to locate in manufacturing as well. The ERP systems of today's time bring efficiency in the various manufacturing procedures with production monitoring, product planning, forecasting, obtaining raw material and a lot more. Hence with this, we can understand for both ERP in the retail industry and ERP in the construction industry, scopes are very high for businesses.
It is very important for retail companies to implement an automated ERP that comes with integrated CRM. By this, the sales and marketing team can benefit as then generating quotes, selling, purchase orders, managing commissions and tracking details such as profit margins becomes a lot easier. Hence, sales order process management in ERP takes place in the best possible manner for organizations.
What is the ultimate aim of any business? It is definitely to witness the incoming of more and more sales order. Tapping on that kind of power instantly becomes feasible with automated ERP systems. The best ERP systems for small businesses help finance teams in dealing seamlessly with management processes such as analyzing, tracking and reporting crucial business data. Nowadays even more small companies, ERP software is the most important tool for proper financial management.
How to choose the Best ERP System for Small Businesses?
When a business is small in size, there are certain limitations. Hence it is important that a small business evaluates ERP software carefully before investing in it. The steps that a business must follow before selecting one are as follows:
Considering the IT strategy

Boosting the business processes

Understanding why there is a requirement for an ERP system

Developing a proper enterprise resource planning selection team

Shortlisting some of the best ERP systems of the present industry

Considering a data management strategy
Conclusion:
Overall it is clear that automated ERP systems will always bring considerable enhancement in operational efficiencies. ERP for small businesses proves to be highly useful and for them to make their position in the industry. One of the best power-packed systems that are helping small businesses is exactllyERP. Installing sound ERP systems is the only way to go for small businesses. Request for a Free Demo today. Contact Us for further discussions.
FAQ:
(1)   What are the Benefits of an ERP System?
Better cash flow, business process enhancements, supply chain management, boosted business reporting are the advantages of an ERP system.
(2)   Is ERP good for Small Business?
Small businesses that are indulging in outgrowing their accounting software and spreadsheets must use a sound ERP system. ERP not just streamlines processes but also automates tiresome tasks.
(3)   How can an ERP System help a business?
Automated ERP systems help businesses in discovering waste, discarding inefficiencies, simplify real-time collaboration and boost customer relations. With ERP software, a business can gain greater visibility and insight into supply chain operations.
(4)   What is ERP Automation?
ERP automation refers to the function with which ERP software automates everyday monotonous business processes. It stores data in one centralized location. It makes information readily accessible to all employees.
(5)   What is Automated Business Integration in ERP?
Automated business integration in ERP incorporates transactions and processes between various departments. This brings more integration across the organization. The function of ERP software is to automate conventional business functions and also the record-keeping tasks.
(6)   What are the Benefits of ERP?
Better inventory costs, cost savings and a better cloud and data security are the benefits of ERP.
(7)   Which is a Selection Criterion for an ERP System?
Future and technology scalability and integration with present systems are the factors that an organization needs to consider before selecting an ERP system.
(8)   What are the Essentials Features of ERP for Small Business?
The most essential features of ERP for small business are data analysis, integration, human resource management, reporting, automation, customer relationship management, visibility and tracking, reporting, accounting and a lot more.