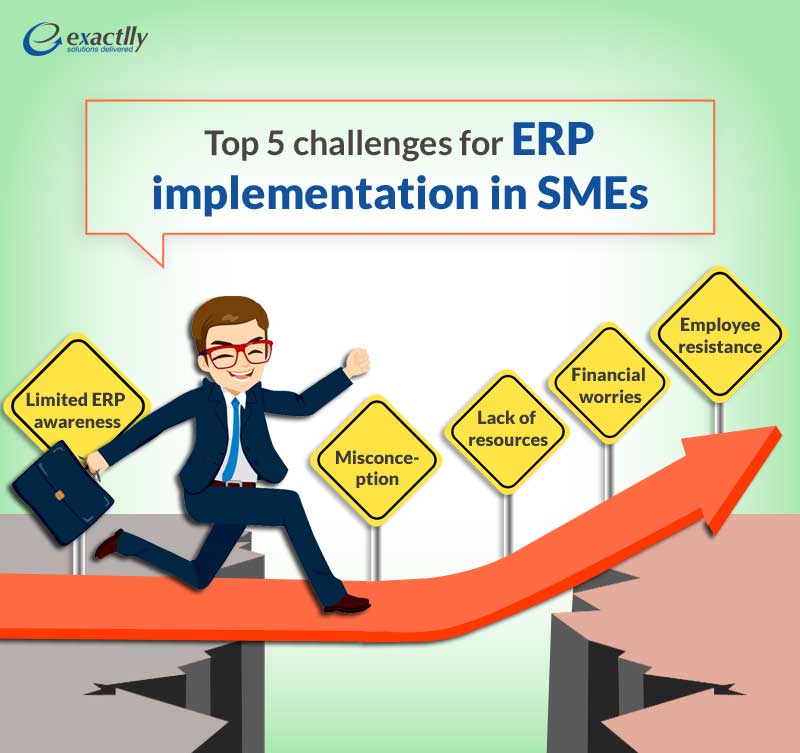 Today Small and Medium Enterprises have a significant part in framing the economy of a country. In various financial divisions, SMEs can drive development and competition.
With changing nature of market, solid competition confronted from worldwide professionals, SMEs are encountered with different key issues that may not give a friendly air to a fruitful ERP implementation.
In this manner, understanding the challenges becomes as critical as the relevant knowledge of business.
SMEs are reluctant to implement a new ERP Management Software system at their organization.
There are many reasons why SME owners and officials tend to avoid ERP implementation. Today main 5 challenges that they face are discussed:
1. Limited ERP awareness – The SMEs has a limited awareness regarding the capabilities of an ERP system. They have confusion on which ERP vendor to trust. This lack of awareness mostly affects the growth of business.
2. Misconception – It is a misconception among the SMEs that ERP software is only for large scale business due to high cost of possession, complication of implementation and following maintenance cost.
3. Lack of resources – Lack of resources is another major problem faced by the SMEs. There are not many skilled IT personnel who can provide suitable suggestion and proper navigation to the implementation team. Due to the lack of trained employees ERP implementation seems a burden to the SMEs.
They might outsource an ERP consultant. But that leads to more expenditure.
However, once an ERP solution is implemented it ensures that the company does better use of the resources.
4. Financial worries – SMEs might have budget restriction, so the accounts department may decide to cut the cost of ERP implementation to save money. But it is often forgotten that ERP implementation is actually a capital investment in favor of the business. ERP system helps to support and grow the business beyond its current limits.
5. Employee resistance – An ERP implementation brings major changes within the organization. ERP system brings a systematic workflow, a strict work environment. This in turn can make the employees panicked and resistant against the change.
The end users of ERP must be introduced to the new process, procedures and standards. It is very important to properly train the employees, who will use ERP, for a smoother functionality of the organization.
Conclusion: An ERP implementation is aimed at achieving operational efficiency by streamlining business processes, and driving up productivity and reducing cost. Despite all the challenges, ERP implementation can make a significant difference for the company. It can improve the functionality and resolution of the business. Visible benefits might take time to show but it is a positive investment towards the growth of SMEs.