With the pandemic hitting the world badly in 2020 and still continuing its effects in 2021 businesses are forced to learn groundbreaking ways of fulfilling the new challenges.  This was even more important for ensuring seamless customer support, supply chain and management with remote working. It has now become impossible for organizations to work with dated Technology with partial or complete personnel operating from home. This is paving the way for the incorporation of cloud ERP solutions. Not only ERP solutions guarantee business alignment but the workforce can also easily share reports, information and files with other departments. If you are looking for cloud based ERP then you can learn about the best cloud ERP solution over the web. Cloud ERP software assists in, enhancing the processes of remote business and consumer support strategies.
Run a Successful Business with Best Cloud ERP Solutions:
The effect of the best cloud ERP software for today's businesses is undeniable.  Along with this working with several advanced technologies like artificial intelligence and machine learning algorithms is possible by implementing ERP systems. These Technologies facilitate better customer support and decision making respectively. Starting from Data protection to automation, cloud based ERP software is an all for one and one for all software that provides data integration and flexibility.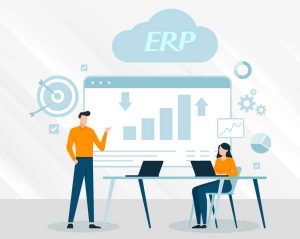 Every organization moving ahead for ERP business collaboration must deploy top-notch cloud ERP solutions for implementing agility within the business. If you want to get hold of the best cloud ERP then you can visit Exactlly website and learn about the same. Software Solutions from this vendor is housed on a remote and secure network of services that provides administrative rights, access and ownership to companies. 
This also means that cloud based ERP solution is cost-effective in comparison to on-premise ERP software that needs 24*7 Software and Hardware support. Along with this ERP solution for remote business provides scalability and flexibility that helps organizations cater to more the amount of customers' data. As organizations engage in ERP projects more they are able to fetch more sales orders as well. The best cloud ERP solutions incorporate contemporary Technology that offers complete support to business agility in today's Digital Era. However, when it comes to agility it is a new term that addresses the ability of the organization to adapt to business needs that are constantly evolving.  
With ERP in the construction industry and ERP in the retail industry, organizations belonging to these sectors can now stop entering data manually for generating insightful reports. With the cloud-based ERP software, they can automate the complete task of collecting the data, structuring the data and providing valuable insights in the shape of graphs.  The biggest benefit of utilizing a Cloud based ERP solution for remote business is also data migration from backdated tools. The organizations can now go for data migration in a short span of time for shifting to the new cloud based ERP solution. 
Cost-Effectiveness Cloud ERP Solutions: 
Starting with ERP Project, organizations whether small, medium or large along with cloud based ERP systems can benefit largely because of its cost-effectiveness. When it comes to the on-premise ERP software it is not only pricey but also challenging and complex to manage. Alongside scaling on on-premise software is a big challenge that requires organizations to allot a lot of time. However, in the present era, we are thriving because of Advanced Technologies that has also gifted us solutions like Cloud ERP which is the ultimate answer for decreasing both the operational and capital expenditure of scaling the present capacity. 
Cloud ERP software significantly decreases the administrative price by integrating the backend and the front end. Businesses also no longer have to maintain the IT infrastructure because of the cloud services.  
How Cloud based ERP Solutions assist with Automated reporting?
It seems that the best cloud ERP solutions are all about ease and convenience for businesses of today's time. However, the one point that makes it a unique technology is that employee training has never been easier. Learning this kind of software is very simple and carries a petite learning curve.  
Coming to automation, organizations when deploying ERP Software Solutions for remote businesses will no longer need to utilize 3rd party reporting solutions.  This is because a cloud based ERP software comes with reporting templates that are predefined and analytics that are built-in that enables the users' present valuable information within less time.  
Feature loaded Cloud-based ERP Software Solutions: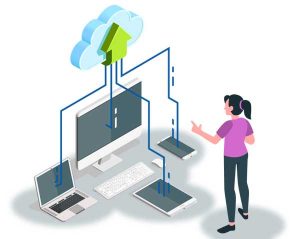 With the best cloud ERP, any organization can run more smoothly and carry out processes in a better manner because of its features. The features are as follows:
Cloud ERP software

comes with intuitive and easy to use control panels and dashboard that enable the present employees to utilize them conveniently

 Organizations do not have to be concerned regarding cybercriminals hacking confidential data anymore. This is possible as

ERP software

running on the cloud comes with high-quality security and protection protocols.  Along with this, a Software Solution also enables data encryption and provides Modifiable administrative rights to various teams

 Most organizations are now carrying out

remote business

given the pandemic situation. So the workforce that is operating from home does not have to be concerned about the latency or lag anymore for fetching the data from Cloud. This is because contemporary

cloud ERP

solutions carry  an advanced user interface and the workflows are also flexible that boost the entire productivity of the employees

Gathering data from every department within an organization is another important task that the

ERP system

carries out with precision. The department from which data is collected includes sales, customer information, production, inventory, order details and many more. Alongside this team can also get access to the data as and when needed. Real-time data access with modern cloud based ERP Software Solution discards the utilization of distributed spreadsheets.
The teams can carry out data-sharing online while they are operating on similar projects so that every person within the team can be notified regarding the progress of the projects. Businesses in this manner can decrease both the delays and cost and enhance the overall efficiency.  
For example, cloud based ERP software lets organizations update various team accounts. After the updating of all the accounts, the relevant departments like sales, warehouse and accounting become familiar following which the business operates smoothly. To be precise the unification of data on the cloud helps the higher management in carrying out timely decisions.
Organizations with the

best cloud ERP solutions

can manage the flow of cash more easily by integrating budgets, Bank balances and invoices. It offers an all-inclusive  scenario of cash flow to the upper management

When it comes to

cloud ERP solutions

this kind of technology works by making data accessible to everyone that include travelling, onsite and offsite employees. In this method the workforce can easily view, report, evaluate and carry out data validation on tablets, smartphones, desktops, laptops, etc. 
ERP solutions based on the cloud also guarantee the accessibility of details by different teams no matter what their location is. It is a unified platform that does the work of storing all business-related information. 
Final Say:
The best way to ensure that the workforce in your organization is thriving well is by deploying cloud ERP solutions. Remote business and remote working is something that will stay for years. ERP solutions will help businesses in moving past the reorganizational curve. Cloud based ERP makes organizations pandemic-ready which means that they can carry out processes even when the world is in a topsy-turvy condition. exactllyERP is one of the best cloud ERP solutions that is largely helping companies in learning agility and resilience. Watch the Free Demo for a thorough understanding. With the best cloud ERP solutions Kolkata, organizations can tap on the convenience of superlative infrastructure as well. Contact Us to deploy the software solution today.
FAQ:
(1) What is a Cloud ERP Solution?
Cloud ERP solution is an enterprise resource planning system that operates on the cloud platform of a vendor which is the opposite for on-premise systems.
(2) Why is Cloud ERP better?
Cloud ERP is better as employees and managers can access information from any device and from anywhere in real-time.
(3) How is Cloud Computing applied in ERP?
Cloud-based computing enables users to gain entry to software applications like ERP that operate on shared computing resources through the Internet,
(4) What is Cloud ERP Implementation?
Companies use ERP software for managing information across the entire organization. On the other hand, ERP tools and software that are managed and offered in the cloud is known as cloud ERP implementation. 
(5) What is the difference between ERP and Cloud ERP?
The installation of on-premise ERP solutions takes place locally on the organization's servers and hardware and then the IT staff manages it. But with cloud ERP is offered as a service and is known as SaaS.
(6) Which operations can be done on Cloud ERP?
Offering an all-inclusive overview of every department, collaborating tools within contemporary cloud ERP software are some operations that can be carried out on cloud ERP.
(7) Why is cloud better than On-Premise?
Cloud is better than on-premise because of its reliability, security, flexibility and in the cloud, everything is hosted by a 3rd party provider.
(8) Why is ERP used?
Organizations with ERP can manage all the business functions within an integrated and centralized system. The software brings together human resources, financial management, customer management, etc.
(9) When might a firm use a Cloud based ERP?
A firm can think of using a cloud-based ERP when it wants automatic upgrades, wants to decrease the operational expenses and needs faster and better scalability.
(10) What are the advantages of Cloud ERP?
The advantages of cloud ERP for organizations are effortless and faster implementation, universal accessibility, better access to information, etc.