Every part of a business can operate smoothly when project management is carried out seamlessly. Proper project management enables teams to emphasize crucial work and not on tasks that cause distraction. However, this scenario is apt for pre-COVID times. But since the pandemic in 2020, organizations and their teams are compelled to work remotely. The scattering of working individuals can affect the sales order, revenue, budget, productivity of a company. Due to this more businesses are not investing in project management software like remote ERP that enables teams to work remotely but in a united way. ERP implementation can be quite intimidating for IT teams at first. This blog post talks about the easier ways of carrying out remote ERP implementation.
List of Project Management Essentials:
Even before the pandemic, employees worked from home from time to time but when the majority of team members work remotely, it can pose challenges for the organization. IT leaders of several organizations are now bringing transformations to their usual implementation processes to account for the new reality. Few project management essentials that they will require for a successful remote ERP implementation are as follows:
Usual Core Working Hours

–
The pandemic has affected millions of homes especially elderly people. Automatically there will be employees in an organization who need to take care of their elders and children as well. Maintaining a standard workday is challenging due to these reasons. However, an organization cannot afford to impact project management due to this. But what it can do is invest in ERP implementation. Employees can then after working particular core hours each day, be available at times of need. For instance, the workforce can be requested to be accessible from morning 10 to afternoon 3.
Remote working has a lot of benefits yet it obstructs project teams to conduct crucial informal discussions like the ones that they engage in while leaving meeting rooms. It is the duty of the project leaders to schedule time for those informal discussions. Of course, speaking with each and every employee is not always possible as a project team might be a big one. But the project leader can always keep a check on how the workforce is feeling about the project management software. It is possible to pursue information from these discussions for guaranteeing that the management is aware of the challenges that the team members might face.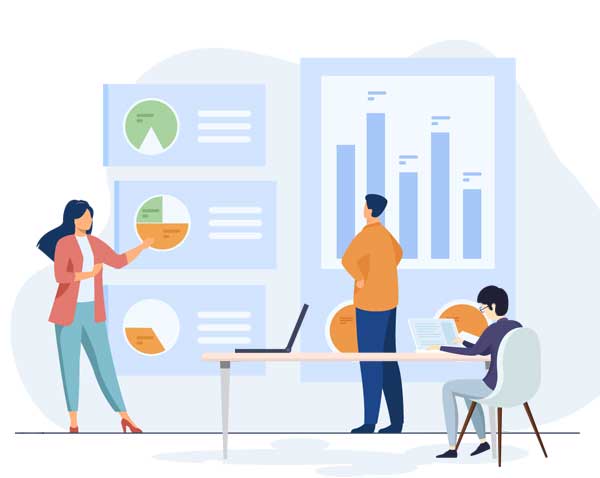 It is not long that organizations have started investing in remote ERP. Due to this planning is vital for a victorious remote ERP implementation. Planning becomes even more crucial when team members cannot engage in daily interactions due to fewer employees or workforce that is working remotely. The management always has to guarantee that each employee is aware of their objectives so that no duplication of work takes place. Well documented dependencies are compulsory and correct implementation is necessary. All this is possible by installing cloud ERP. When it comes to ERP implementation, Exactlly is the name to trust.
The beauty of ERP software is that it lets leaders and managers of an organization facilitate formal channels of communication. By this team members can receive important information at the correct time such as project status, which employee is working on which task and also the contact information. Of course, while working remotely, employees will not communicate as they would in an office environment and it will be quite less. Hence, to make the message reach everyone promptly, ERP implementation is the best solution. With ERP business collaboration, employees, especially in ERP in the retail industry and ERP in the construction industry, can communicate much more efficiently and effectively.  
A project team can very easily communicate with one another through email as it is the simplest way. But if we look at it from the perspective of project management essentials, it is ineffective as people by now are besieged with email. Email also poses challenges while tracking decisions. All of these situations are making project management software even more important for employee training reasons. Remote ERP assists managers to post crucial updates on the project site. Referring people in that space for updates is possible so that information is stored perfectly for future reference. So the people who are not present on email threads can also go through the decisions and be aware of the decisions made.
When team members are dealing with large projects, they usually sit down in a dedicated room where they can witness the displaying of the updates and status. The benefit of these rooms is that there is a central location for a particular project where people on an ongoing basis discuss the project. But when employees are working remotely, it is not possible to do so physically. However, with remote ERP implementation, employees can carry this out virtually. It is possible to work with applications that enable employees to post content online and sharing with other members is also possible. Such ERP projects feature makes project management software so highly popular these days.
Importance of Facilitation –
When there are large meetings taking place within an organization, involvement and response from attendees is needed. For instance, while validating or collecting requirements, the project will demand the engagement of a person with strong facilitation skills for leading the meeting. This person needs to carry experience for facilitating online meetings previously. The best way of dealing with this is utilizing ERP software that functions as an amazing online collaboration tool. With this receiving response and feedback from everyone is possible especially for the people who are not comfortable speaking overcall.
The most important part of planning the ERP rollout is considering the proper way of training the employees remotely. Employee training is important as few people within the workforce might carry fewer computer skills and they will find no help when they feel stuck. When it comes to living online training, it is vital to incorporate breaks within the schedule similar to that with one-to-one training sessions. The importance of ERP implementation here is that it lets managers offer numerous time slots for training purposes. It is for accommodating the employees who are struggling with family and work commitments. Crucial procedures require documentation from time to time in a precise manner for employees with fewer computer skills.
Project management in a remote manner is more or less a new concept for most companies and employees. Due to this, every person within an organization must carry the mindset of learning always. Also checking with numerous stakeholders for receiving feedback is vital. People should not be hesitant to adapt at all times.
Any organization can engage in remote ERP implementation but prior to going live, it is crucial to guarantee that the particular ERP software fulfils the organizational requirements. So it is advisable to carry out end-to-end testing as a portion of the acceptance testing. When it comes to in-person enterprise resource planning implementation, it will be helpful to engage all in the task of acceptance testing. This is helpful for facilitating discussion as an individual's activity might impact the upcoming individual down the line. When everyone works in one room, it will facilitate the alteration of information and solve many issues rapidly. In the context of remote ERP, it is possible to gather everybody in one room virtually. All participants can take part in a web-conferencing app for facilitating screen and dialogue sharing.
Final Say:
One of the major undertakings of any organization is remote ERP implementation. Especially investing in project management software is highly worthwhile for the entire team. Aligning with the big picture goals becomes possible with remote ERP for organizations. Successful ERP implementation is attainable with the assistance of technology and dedication of the teams working. Launching remote software becomes even more hassle-free with experts of exactllyERP. All information is accessible in a Free Demo. Contact Us today.
FAQ:
(1) What are Project Management essentials?
Realistic timelines, template utilization for design, building a robust cutover plan, building regression testing time are some project management essentials that organizations must be aware of. 
(2) How do you manage an ERP Implementation Project?
Managing ERP implementation projects is possible by amalgamating a project team, developing an implementation change management plan, predicting the costs of ERP implementation, beginning data migration and a lot more.
(3) How do you manage Projects Remotely?
Managing projects remotely is easy with proper planning, formal and informal communication, virtual rooms, usual core work hours and many more.
(4) How are people involved in ERP Implementation?
The IT manager of a company is accountable for synchronizing IT associated activities between the ERP vendor and organization and third-party employees.
(5) What is the ERP Implementation Plan?
In the development and design stage of the ERP implementation plan, the vendor and customer describe processes and document various new procedures of the way the ERP software will be managing data. Following the definition of the processes, they construct a database framework for fulfilling new requirements.
(6) What is the ERP Implementation life cycle?
ERP implementation life cycle is the procedure of arranging ERP software starting from planning, going live and a lot more. The usual implementation cycle ranges from 6 to 12 months.
(7) What is Remote Implementation?
With remote implementation, organizations can implement software solutions internally and will not even need the assistance of vendors for being on-site.
(8) What are the benefits of the ERP System?
The benefits of ERP systems are cost savings, improved customer service, supply chain management, better inventory costs, boosted business reporting, better data security and a lot more.
(9) Why do companies use ERP Systems?
With the help of ERP systems, companies can keep a check on all the moving portions of distribution and manufacturing. ERP software brings together business intelligence, customer management, financial management, human resources into a single system.