The excitement of downloading a new application usually fades away as you find it to be challenging to navigate or confusing. Following this, you delete the application instantly. Today's software products are easy-to-use that have set our expectations within a petite learning curve. Now anyone can get information efficiently and rapidly. It is addressed as usability that is a robust concept but a neglected one when it comes to new software solutions. An absence of ERP usability is so influential that it can make the software products with the smoothest designs and concepts completely irrelevant. When the search is for a new ERP system, no organization can afford to pause until after implementation to learn the level of usability of the new system. It is because usability will also function as the biggest ERP differentiator. By the time it invests resources like money and time in the system, it might be stuck with cloud ERP software that it cannot delete. Hence, usability has to be taken into account every single time.
Gaining Insight Into ERP Usability:
The ease that lets an organization accomplish several tasks with the new ERP system is addressed as ERP usability. Many ERP solutions provide functionality and features that a business requires but the business needs to implement the ERP differentiator that includes the willingness and easy understanding. Exactlly houses the best cloud ERP software that an organization and its employees can easily adapt to. There are systems in the market that are not designed by keeping the end-user in consideration.
Five components that define usability are:
After learning the design, how fast the users will be capable of conducting the required tasks.
Is using the design satisfying? Contemplating the level of pleasantness in using the new system can mark the difference in understanding whether adopting the technology is easy or not.
While navigating the ERP system, how many mistakes were committed? How big are those mistakes? How easily can the users recover from the mistakes?
While a business is in the trial and error period, how easy it is for them to complete basic tasks with the new software. Are there any aspects that are confusing?
What is the level of intuitiveness in the new ERP software solution? Is re-establishing proficiency rapidly possible when the users do not use the system for a few days?
Well-designed ERP software systems go beyond only colourful dashboards and pretty graphics. Organizations need to benefit from a system that they can access from all devices and hence it has to act as a differentiator. They must be able to work with a centralized source where they can share business data in real-time across every department.
How Much Power Does ERP Usability Hold?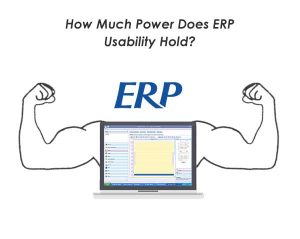 More than humans giving shape to technologies, it is the various technologies that now control our lives and businesses. For instance, be it knowing about the weather forecast, discovering a particular recipe or searching songs, we can find within seconds with voice search. Today's technologies use Natural language abilities for accomplishing real tasks. This kind of usability is expected from ERP Projects as well. ERP vendors are now striving to enhance their ERP's usability carrying the ability to personalize capabilities and user interfaces that are intuitive.
While a business evaluates whether to process with cloud ERP implementation or not, it has to factor in ERP usability. The quantity of sales order that a business will be able to witness will largely depend on this. Usability is very important in ERP in the construction industry and ERP in the retail industry. Without efficient usability, none of the sectors can mark differences in their various business processes.
Is The Usability Of ERP The Biggest Differentiator?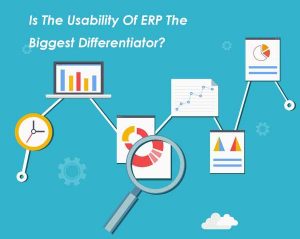 Any big or small business for surviving tough competition and for optimum growth needs to invest and install the best ERP system. The ERP usability of the solution that an organization selects must also function as a differentiator. It is mainly important during the primary assessment and implementation. The system after that can scale for managing high-volume and complicated data processing. The software must be able to onboard new users rapidly for collaborating efficiently across geographies and departments. The flexibility feature of the software systems helps with employee training. The users can then easily configure the implementation for matching the present best practice. It will also be possible to eradicate siloed processes and data.
The ERP vendor a business selects for its software requirements is crucial. The vendor must make noteworthy investments in high-end functionalities to all their software solutions thereby committing towards long-standing value for all customers.
What Are The Benefits Offered By ERP Usability?
When a business chooses cloud ERP software by keeping the usability factor in mind, it will gain several benefits like:
Improved data management

Boosted employee and user satisfaction

Better forecasting

Reduced effort and time

Better business growth and productivity

Enhanced collaboration

Timesaving automation

Better profitability

Informed and faster decision-making
It is easier for businesses to get hands-on the software that powers them with the needed functionality but they must implement something that everybody can utilize and understand. The workflow and the layout process of the software have to surpass everything to show its effectiveness.
The ERP differentiator system is the one that offers unrestricted user licensing. The team must find ease in evaluating and sharing information across every division in real-time via personalized dashboards. It must be fabricated in BI. Businesses with this kind of software can make decision-making more informed and can promote organization-wide collaboration. The best software system offers a single feel and looks across every application that contributes to the entire usability.
Areas That Must Target Usability:
Usability incorporation needs to be done early in the ERP system selection procedure. An organization must find its prospective ERP to be simple to navigate and help them complete particular tasks for fulfilling business requirements via the personalized dashboard.
It is vital to recognize the business requirements and emphasize how the organization will utilize the system for day-to-day tasks.
Expenses

Tax planning

Multi-user accessibility

Project management

Integrations

Time tracking

Basic via advanced accounting attributes

Projects management

Invoicing

Real-time reporting

Cloud-based and mobile access
Final Say:
The failure or success of an ERP system can result from numerous criteria. The usability of the system is the biggest factor. An organization can only get a hands-on ERP differentiator when they focus on ERP usability. More and more organizations are now opting for cloud ERP that emphasizes integrations and usability enhancements for the industry that assists in boosting efficiency. It also takes care of customer and staff satisfaction that ultimately clears the workflow bottlenecks resulting in business growth. exactllyERP ensures that a business and new ERP system works together with the evolution and growth of the organization. Our Free Demo demonstrates the benefits of the ERP system in terms of usability. Contact Us today.  
FAQ:
(1) What are ERP users?
The primary ERP users are businesses from sectors like production, commerce and retail, accounting, food industries, finance, healthcare, logistics, education sector, farms and architecture, business intelligence, construction, etc. 
(2) What is ERP Strategy?
ERP strategy is a technology strategy integrating a bunch of business functions like HR, purchasing and finance with operational facets like distribution or manufacturing via tight linkages from financial records to operational business dealings.
(3) Who uses ERP?
ERP can be used by several industries that include nonprofit groups, hospitality, healthcare, construction etc.
(4) What are the four common ERP Implementation Strategies?
The four common ERP implementation strategies are parallel adoption, big bang, hybrid and phased rollout.
(5) What is ERP Functionality?
ERP functionality includes a method of utilizing computer technology for connecting numerous functions like inventory control, human resources, accounting, etc.
(6) What are the two main Features of an ERP?
The two main features of ERP are enterprise-wide integration and real-time operations. Both features help employees gain proper access to details and finish more work in less time.
(7) What are the advantages of ERP?
The advantages of ERP are cost savings, proper business reporting, supply chain management, improved customer service, cloud security and better data, better cash flow, etc.
(8) What is the heart of any ERP System?
The heart of any ERP system is the central database.
(9) Which is one of the most critical steps in ERP Implementation?
The most critical step in the ERP implementation is the integration and data migration process. It is vital to take the backup of all data before shifting to the cloud.
(10) What are the steps in ERP Implementation?
The steps in ERP implementation are describing implementation scope, end objectives, picking the ERP system, fabricating a project plan, describing implementation phases, creating a communication plan, etc.