Budget estimation, cash flow management, keeping updated financial data, keeping track of all sales orders are the tasks that indicate healthy accounting and financial management. If an organization fails to maintain order in these mission-critical tasks, it might have to bear a lot. Financial management and accounting is the most important part of an organization that can determine its growth. Proper financial management requires analyzing and tracking outgoing and incoming funds for driving growth and profits for every business. Organizations must be aware of ERP benefits as ERP systems help boost the operational efficiency of contemporary businesses. It carries functionalities that can optimize varied business processes.
Advantages Of ERP In Financial Management:
When it comes to the financial management and accounting of an organization, there is a need for advanced technologies like ERP application. The robustness of these software solutions in comparison to unconnected accounting software is making businesses shift towards realizing ERP benefits as these systems help in managing operations via a centralized platform. Most importantly, the advantage of integration makes these systems so sought-after as these enable organizations to attain data from several sources and receive the ultimate financial picture.
No Challenges of Repetitive Data Entry –
Proper business operation management calls for the implementation of cloud ERP systems. By integrating ERP software solutions with accounting modules, the staff of an organization need not go through the monotonous procedure of information tallying between distinct systems. It helps in maintaining data consistency and discards the errors of duplicate entry.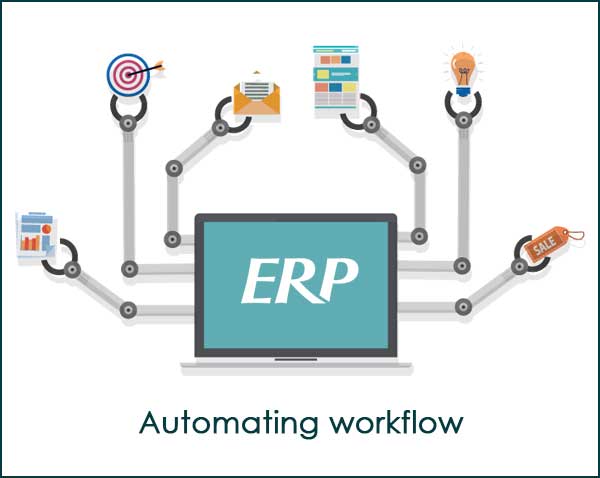 Bringing constant enhancement in core business processes is crucial and this calls for working with an automated system. ERP for financial management comes with time-saving attributes and built-in workflows that help in streamlining data entry and guarantees the automation of the accounting department. Workflow automation with ERP helps in simplifying the tasks linked to accounts payable and receivable. It boosts cash management and eradicates cash flow challenges. The financial management and accounting module of ERP help to gather financial data from a myriad of departments and produce correct financial statements. Managing the entire organization becomes simple with these technologies.
Acquiring account data manually will always lead to human errors at some point in time. It can happen due to incorrect keyboard entries or due to distraction. Errors in data entry are perceived as typical accounting mistakes but improper accounting information can largely put an effect on the quality of the reports of financial analysis. It will not only lead to accounting challenges but also tax complications. Recognizing the ERP benefits over here is paramount as ERP helps in identifying and abolish data entry mistakes. With the systems, organizations will no longer produce incorrect invoices that can come from improper data input. Employee training is simple when it comes to ERP software implementation.
Financial Information Transparency –
Cloud ERP systems from Exactlly helps organizations access financial data easily. The function of these systems is to offer businesses dependable, timely and precise information for keeping every process well-consolidated and optimal utilization of resources. ERP business collaboration can also help businesses in maintaining appropriate financial measures for promoting upcoming business ventures and boost profitability.
Prefect Reporting Capabilities –
The accounting department of every kind of business needs to allocate a huge amount of time for creating financial reports in varied formats for banks, shareholders, etc. As proper financial management and accounting is the need of every sector, implementation of ERP in the retail industry and ERP in the construction industry is a must. ERP systems provide better control over accounting reporting and information. It incorporates customizable and built-in filters that businesses can apply when required for generating proper financial reports rapidly.
Security of Financial Data –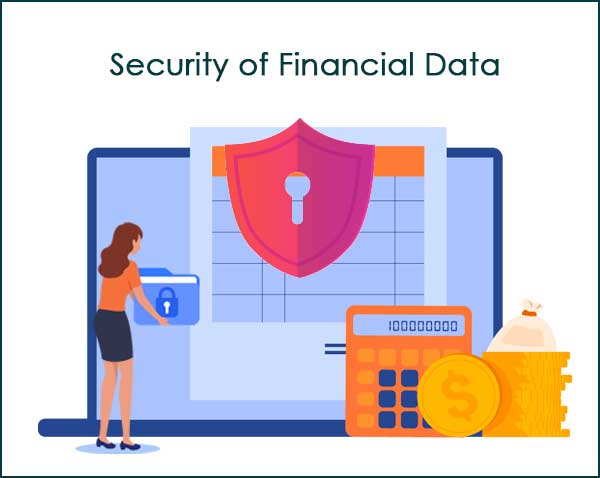 Every company's financial data must be kept confidential at any cost. Hacking into a business's financial data can lead to several fraudulent dealings. But businesses can save their financial data with the help of ERP projects implementation. Advanced enterprise resource planning systems offer security on a multi-layer basis to information that is stored. These software systems put forward role-based access to only users who are authorized for preventing security breaches.
Every business needs to have control every time for proper financial management and accounting. When an organization has complete control, it can witness the bottom-line effect of events at all times and also the businesses can take verdicts in real-time.
Standalone accounting software can never be GAAP compliant. But a fully functional ERP system powers businesses with ERP benefits as these are GAAP compliant. GAAP is that accounting standard that offers a standardized methodology to record events and transactions. Extensive ERP systems are driven by a robust engine. These software systems hearten creative financial reporting that complies well with several accounting standards.
One of the most crucial facades of financial management is variance management. In this space, businesses must learn about the advantages of ERP for appropriate financial management and accounting. ERP software systems help an organization's accounting department as it helps in setting standards. Organizations can evaluate and adjust the cost of any project for fulfilling expectations by taking the expenditure of production. Technologies like this offer a clear baseline to businesses. Standard costing incorporates the expenditure of manufacturing overheads and direct labour. When the arising of the standard and the real cost occurs, businesses can employ several tools for assessing that variance and apprehending how the real cost differs from standard cost. When the standard cost is less than the actual expenditure, the variance will be unfavourable. With the help of an ERP software system, organizations will have the capability of timely recognizing and addressing the cost variances in comparison to the allocated budget.
Final Say:
Standalone accounting software can no longer fulfil businesses' financial management and accounting needs. By implementing ERP software, organizations can give shape to perfect financial management with ERP benefits. However, migrating from standalone software to an all-inclusive ERP is a process and requires effort and focus. Organizations can anticipate expertise from reputed vendors like exactllyERP. They offer feature-rich and adaptable ERP systems that lead to process streamlining and decision facilitation. These software systems are wide-ranging for multifaceted multi-nationals and quite simple for small retail shops. Watch the Free Demo and Contact Us for software that supports today's needs and future requisites.
FAQ:
 (1) What are the benefits gained from having ERP Systems in relation to Accounting and Management reporting?
Estimating the capital requirements, proper cash management, accurate budget and payment management are the benefits of ERP systems. These gains from ERP systems in context to accounting and management reporting can help businesses generate good amounts of profits.
(2) How do ERP Benefits help in Financial Management?
When the connection of accounting and ERP takes place, automating workflows that are crossing between two systems becomes easier. This way ERP helps in financial management.
(3) What are the main benefits of an ERP System? 
The main benefits of ERP systems are better cash flow, better cloud and data security, supply chain management, proper inventory costs and boosted business reporting.
(4) What is ERP in Finance and Accounting? 
ERP functions as a financial management system to guarantee revenue tracking, credit management, and customer payment schedules. ERP systems help in preventing customer complaints.
(5) What are the benefits and challenges of ERP? 
The biggest challenge of ERP systems is successfully shifting the organization's business processes and culture. Improving key business procedures and decreasing operational cycle times are the biggest benefits of ERP.
(6) What are ERP Accounting Systems?
ERP in the context of accounting can be defined as a database software solution package that helps in supporting the processes of an organization.
(7) Why do companies implement ERP Systems?
The top reasons for ERP system implementation are low labour costs and IT expenses and boosting company performance.
(8) How does a company measure the success of an ERP System?
A company can measure the success of its ERP system implementation with demand forecast accuracy. The more precisely the system can track the forecast and monitor the progress of attaining the predicted numbers, it will be more successful.
(9) How is ERP performance measured?
 Measuring ERP performance is possible with two metrics that are cost savings and revenue increase. These are globally relevant.