Customer Self Service
People across the world are growing ever more net-savvy. One of the driving forces behind the popularity of technology-adoption is the availability of internet on mobile devices. It is estimated that a majority of people in Africa, Middle East and South Asia access some form of the Internet through their mobile devices.
With that in mind, Dubai can't be far behind either. Being a melting pot of cultures and peoples, it presents a wide array of demographics who constantly access the Internet using their cellphones and tablets.
Why must you integrate customer self service in ERP?
If you are a business who is looking at offering customer self-service as an option, you must probably think about integrating it within your ERP. Enterprise resource planning systems come with CRM modules that can be customized to help you integrate customer self service (CSS) on your web portal. Not only does this help in speeding up things, but makes you and your business more approachable to those who are always on the go. And today, most people access the Internet on their mobile devices.
Thankfully, most ERP systems today come with mobile versions which are built to work well on platforms like Android, Windows Mobile and iOS. By integrating customer self service into an existing ERP platform, one can improve customer relationship and the way services are provided. There are a number of ways an ERP can be used to integrate CSS within an online portal. Let us take a look at some of the scenarios:
Customers can track orders
As eCommerce industry booms in Dubai and other megapolises, people have increasingly begun to rely upon online shopping. If you have an eCommerce website, the best thing for you to do would be to set up customer self service as an option. This helps your customers to track their orders and see if the shipments are still in transit. If address, name or items are mentioned incorrectly, they can contact your customer care department without causing any untoward delays or confusions.
Customers can check if items are available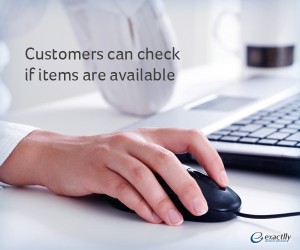 Usually, when people shop online, they add items to their shopping carts and forget about it. They never come back again. What really happens is, those items are blocked for a certain period of time, hoping that the customer returns again. Integrating a CSS into an ERP will help you to send reminder emails or text messages to customers, asking them to come back and shop, if they are still interested. Not only that, it can help customers to see for themselves if some products are available or not.
Creation of accounts and profiles
Customer self service helps to integrate customers and users' social profiles, like Facebook, Twitter and LinkedIn. This not only provides you with valuable information but also helps the users to easily create accounts and update their profiles.
Paying invoices online
Every eCommerce site tries to make it easier to pay invoices online. In fact, the success of an online store depends on how easy it is to pay invoices online. However, a customer self service module takes this a step ahead. It allows customers to ensure that they are not entering incorrect information, thus avoiding unnecessary confrontations. Moreover, the quicker it is to pay invoices, the more chances of you making a sale.
Making complaints or seeking help
Last but not the least, a customer self service module helps customers to make complaints easily. One of the most disheartening and disappointing experiences a customer can have is when he or she cannot reach your helpline. A CSS helps customers to make complaints easily, even when your call centre is closed. Not only that, it can help them to seek help or ask questions as well.
Final thoughts
At the end of the day, a customer self service module not only saves your time and money, it improves and ameliorates customer relationships. It also acts as a great lead generation tool as you can track those who visit your CSS portal and enter information. And of course, all this can be integrated within an ERP.