As an employer and a business owner, your prime priority should be to ensure that your employees enjoy a safe and secure environment in which to work. Workplace discrimination costs American employers $398 million a year, whereas British employers pay a record £127 billion every year in fines and lawsuits. With strict anti-racist, anti-homophobic, and anti-sexist laws coming into place in almost all countries, ensuring that discrimination does not take place at work is very crucial.
As we have witnessed with the #MeToo movement, very few people open up about discrimination and harassment incidents, but when the beans are spilt, it is likely going to cost your company a tidy sum in lawsuits, compensations and fines. Most importantly, workplace discrimination creates a toxic work environment that reduces productivity and costs you large amounts of money indirectly.
In this article, let us take a look at how HRMS can be used to protect your employees from workplace discrimination.
1. Encourage staff to use Employee Self-Service (ESS) to report incidents of discrimination:
Employee self-service is often used to apply for sick leaves, vacations, or other job-related functions. However, it can also be used for reporting incidents of harassment and discrimination, while maintaining confidentiality. Most victims of discrimination find it difficult to step forward and confide when they are being discriminated against or harassed. ESS can provide a safe platform to report unpleasant incidents in varying details so that management can take action against perpetrators.
As an organization, you can customize your ESS module to include a harassment reporting feature, so that employees feel comfortable sharing their experiences. As many people may not want to reveal their own identities, you may also want to enable anonymous reporting of harassment incidents.
While most HRMS tools do not have the feature to report harassment directly on ESS, they can be customized to include this facility.
2. Identify High-risk groups and provide Support Anonymously:
Discrimination isn't always overt, and many victims may not realize that they are being discriminated against. As companies grow larger and more diverse, protecting the individual rights of employees and protecting them from discrimination becomes your duty. The first step towards doing this is by identifying risk groups, and ensuring safety measures are put in place.
For example, a certain ethnic group may be at high risk of being discriminated against. When you have information that a certain employee or a group of employees belong to this group, you can seek external help and advice to provide support to them, and to make them feel empowered.
LGBT+ Groups, in particular, need this kind of support, as many may not want to come out or disclose their identities. However, providing anonymous support via your HRMS and helping them connect with support groups without disclosing their identities will help you create a safer and friendlier work atmosphere.
3. Encourage Peer Support and help within teams:
Peer support, either anonymous or identifiable, is very important to avoid instances of workplace discrimination. Employees who belong to similar social groups can be identified and willing volunteers can offer chat support, training, resources, and other kinds of help to members who are susceptible to workplace discrimination.
You can use your HRMS' training module to encourage employees to familiarize themselves with various risk groups, and how they can help those who may be at risk of discrimination within their own teams. This not only helps avoid discrimination but also enhances team building and cooperation.
Sensitizing programs that help male employees to understand the difficulties of female employees or programs which help raise awareness about disabilities and health conditions of certain groups, etc can be part of programs delivered over HRMS.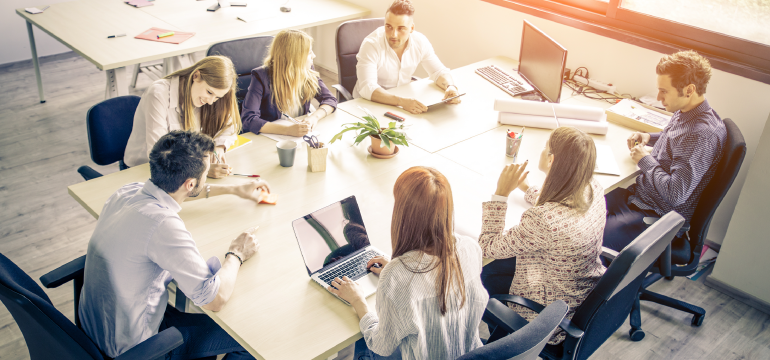 4. Take action when instances of discrimination or harassment are Reported:
As an employer, your primary concern should be to avoid untoward incidents within the workplace and to terminate repeat offenders or report them to authorities if need be. You can use the HRMS to create a workflow that starts with an employee reporting an incident, evaluating the seriousness of the matter, and taking an action based on your evaluation.
Escalation of issues can be programmed into HRMS as well so that incidents are identified, evaluated and reported quickly. If a certain employee needs to be terminated, the process becomes easier and more transparent, while always maintaining confidentiality and anonymity of the individual who reports incidents.
Customize HRMS to avoid Workplace Discrimination:
Certainly, it is not easy to recognize instances of discrimination as soon as they happen. Many victims may not want to disclose even when they are discriminated against. Including employee self-support (ESS), peer support groups, and effective training modules that sensitize employees regarding workplace discrimination, can all help avoid expensive lawsuits and fines. Most importantly, you will create a positive atmosphere in which your employees can work safely. To learn how you can customize your HRMS to create a safe working environment for your employees, contact us today. Exactlly HRMS is one of the top HRMS providers in Kolkata.